Ophra Yerushalmi: "Prelude to Debussy"

Le 20 janvier, le film documentaire d'Ophra Yerushalmi, "Prelude to Debussy" (en français et anglais, avec sous-titres) a été projeté pour la première fois à Paris, au Reid Hall de Columbia University Global Centers, 4 rue de Chevreuse. Ophra, réalisatrice et pianiste, était présente.

Il ne s'agit pas d'un documentaire biographique. Des pianistes, des chanteurs jouent Debussy et parlent de lui en parlant d'eux-mêmes, ils le cernent, ils l'approchent. On apprend des choses, on est mis sur la voie, mais le mystère reste entier. Il n'est ni manipulé, ni décortiqué, ni trivialisé. Se rapprochant de lui au plus près, nous avons une émouvante apparition de Pierre Boulez, jouant ses propres Notations. Pour le visuel, nous avons Houlgate, un ciel de nacre. Des photos intimes, presque dérangeantes, d'un homme heureux, avec sa fille, sa femme, son chien. Un homme qui, en effet, comme le suggèra sa fille, semble vivre d'"écouter." Ophra pourrait aisément "sensationnaliser." Elle s'en garde avec une rare détermination, une élégance totale. Présence de Jean-Yves Tadié lors de la projection, qui apporte le juste minimum d'éclairage proustien. Là encore, il serait facile d'en faire trop. On comprends, finalement, que Debussy est une plénitude, complet en lui-même, impénétrable... Qu'il y aura des éclairages futurs, qu'on continuera de vouloir le cerner, loin dans le futur... Le film d'Ophra dit: pour Debussy, nous ne sommes qu'au début...



January 20, 2017: first projection of Ophra Yerushalmi's "Prelude to Debussy" (in French and English, with subtitles) at Columbia University's Global Centers' Reid Hall, 4 rue de Chevreuse. Ophra, a pianist and film-maker, was present.


This is in no way of biographical documentary. It's pianists and singers playing Debussy and talking about him by way of talking about themselves, they approach him, throwing small lights. We learn things, we are put on a path, but the mystery remains. He is neither manipulated, nor plucked apart, nor trivialized. The closest approach to Debussy comes in a moving appearance by Pierre Boulez, playing from his own Notations. For the visual side, we have the Channel city of Houlgate and a mother-of-pearl sky. Some intimate photographs, feeling almost intrusive, of a content fifty-year old, in the company of his daughter, his wife, his dog. A quiet man who does indeed look, as his daughter once suggested, from "listening." Ophra could have easily sensationalized her material. She avoids doing so with a rare determination and elegance. The presence at the projection of Proust specialist Jean-Yves Tadié brings just enough of a side-lighting. He too could easily have overdone it. One ends up understanding that Debussy is one self-sufficient, fairly impenetrable whole... That there will be others in the near and far future approaching him and throwing lights at him. Ophra is telling us: "With Debussy, things are only beginning..."


On souhaite vivement que ce film connaisse bientôt d'autres projections. Un petit "festival Ophra," réunissant ses deux autres films, sur Liszt et sur Chopin, s'impose.
Pour donner une idée de son style, voici un extrait sur YouTube de son Liszt's Dance with the Devil.

One strongly wishes that the film will soon have other showings. A little "Ophra" festival bring it together with her two other films on Liszt and Chopin is highly in order.
Just to give an idea of her style, here is a YouTube tease for her Liszt's Dance with the Devil.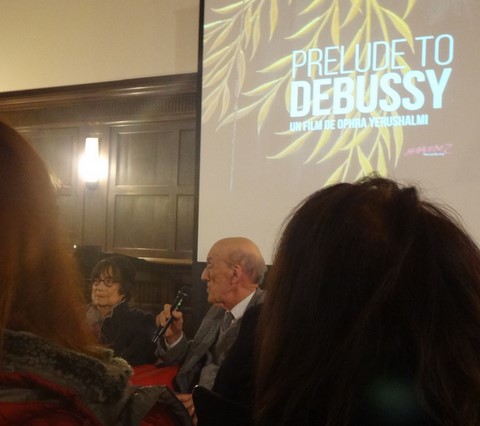 Ophra Yerushalmi, Jean-Yves Tadié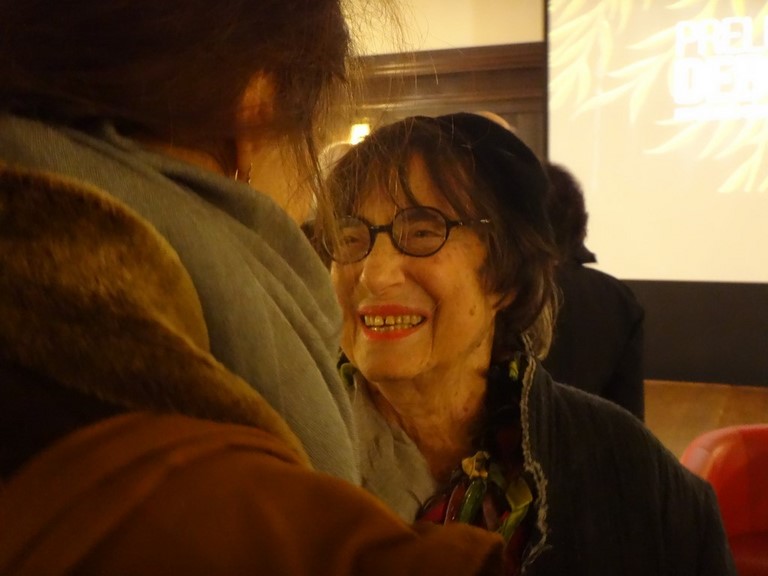 Ophra Yerushalmi, réalisatrice, pianiste